Valve have added the "Hydra" operation into CS:GO today. Besides the operation itself, we'll also have a new case. What can we get from it? You'll find out right now!
Let's begin with the cheapest item and finish with the rarest one which will bring joy and pride to their owners.
The USP-S is followed by a FAMAS. Skulls and snake skin will create a combative image of a special forces soldier who is capable of completing any task.
A stylish M4A1-S hasn't got a good quality, but such an appearance will surely please its owner. Although it's not rare, it looks pretty cool.
This skin doesn't seem to make people buy the MAC-10, but you wouldn't say it's bad for sure.
The king of a close combat, the MAG-7 that looks powerful and brutal.
A skin for the Tec-9 turns out to be beautiful, but it will be pretty difficult to distinguish in a crowd of terrorists..
The UMP-45… What happened to it? You can find out in our analytical article. A new skin is nice, it's a pleasure to hold and inspect the weapon. Don't get distracted, though!
The next AK-47 skin is definitely good! It's stylish and striking and will surely be remembered by those getting in your way. You wouldn't want to leave such a weapon, so you will surely try to die less often — so many good things! Indeed, not only is it nicely looking, but it's also rare.
The P2000 has got orange lines and also a green case. It's pretty nice, but you'd like something rarer considering its status, wouldn't you?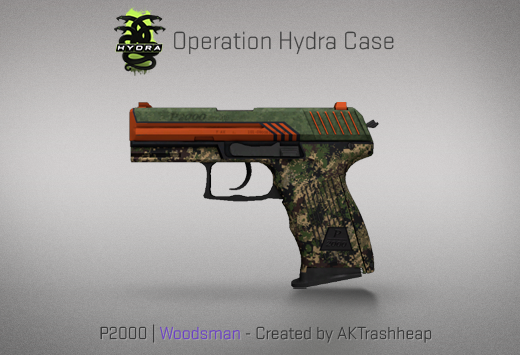 A Red Rock skin for the P250 will stick in your memory. It's easy to notice a camouflage star on the case which is actually good. Although it doesn't look expensive, it's eye-catching for sure.
Now the P90 suits not only for rushing B, but also for showing off to the rest of the players. The picture with tens of hands looks terrifying, and that's good.
The SSG 08 has got a good, stylish skin. You'll look like a real hunter now.
The Dual Berettas are good, and they are even better with such a skin. A acid color will show everyone who is the coolest here.
Galil AR is the brightest skin you'll see in this case. Aggressive colors will be remembered by anyone, and its rarity is another way to make others jealous.
The M4A4 with burning skulls looks awesome! It's an excellent choice for the fans of HellRaisers. The stickers will match perfectly, and your self-esteem will get very high with such a weapon!
It's surprising, but Valve have added even this skin. It's a real miracle of design. Striking colors that scream for the skin's rarity will be a reason to make everyone hunt for your skin (in the game of course).
An AWP skin will be the last in our collection. An Asian style will bring the Tokyo vibes. The rarest skin might not be as striking as other representatives of the case, but the AWP is always in fashion, and if you get Oni Taiji, you surely won't be disappointed, will you?
Thanks to marekazi for the screenshots.
---
CSGOPolygon.com will open the world where reliability, honesty and simplicity of the service leave no doubt, and the game's outcome depends on your luck only. Use the promo code "HellRaisers" in the "Redeem Code" tab and get free 500 coins to your account!
Make sure to subscribe to our social networks to stay tuned!